Bowflex HVT
Images
Product Video
Additional Information
The Power of Two Workouts in One
The Bowflex HVT machine combines both - cardio and strength into one of the fastest, most effective workouts ever designed. In as little as 18 minutes and 20 seconds, Hybrid Velocity Training can deliver a full-body circuit that helps you burn fat and build muscle all at the same time. The Bowflex HVT machine's dynamic coaching console features three pre-programmed workout modes, resistance adjustment at the turn of a dial and an intuitive interface to provide instant feedback while keeping you motivated and on track. It comes with built-in Bluetooth® technology and the FREE Bowflex HVT APP for iOS and Android, giving you access to 50 trainer-led exercise videos that will guide you every step of the way! Whether you're a beginner or advanced, the Bowflex HVT can adapt to your needs, allowing you to customize workouts and start your fitness journey now!
HVT with app (mobile device pictured not included)

Premium hand grips

HVT's resistance fan
Product Features
3 Pre-Programmed Workouts

Sprint (power, speed and recovery)
Circuit (strength, form and range of motion)
Builder (strength and endurance)

Manual Mode

Choose from 50 unique exercises

Dynamic Coaching Console

Syncs with Free HVT® App

Available for Apple iOS and Android devices 1

Bluetooth® 4.0 Compatible

Total Power Technology

Tracks work rate, intensity and fitness progress

Progressive Fan Resistance

6 Premium Grip Handles
Full Specs
1The app is compatible with Apple devices on iOS 9.0 or greater and most Android devices with version 5.0 or greater.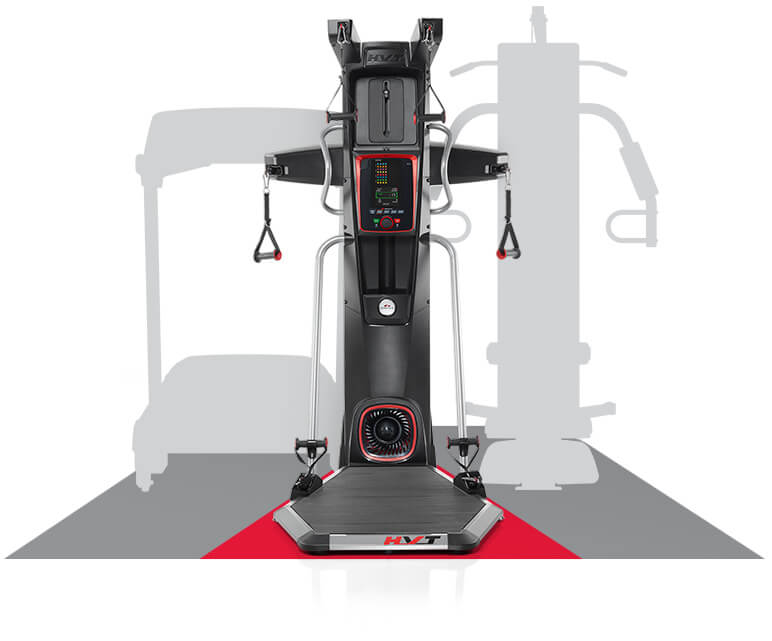 Save Space
Two Workouts in the Space of One
Size is a huge consideration when it comes to home fitness. Not enough space for multiple machines? No problem! Bowflex HVT machine combines an entire set of cardio and strength workouts into one compact design that fits into the corner of any room. Try that on for size!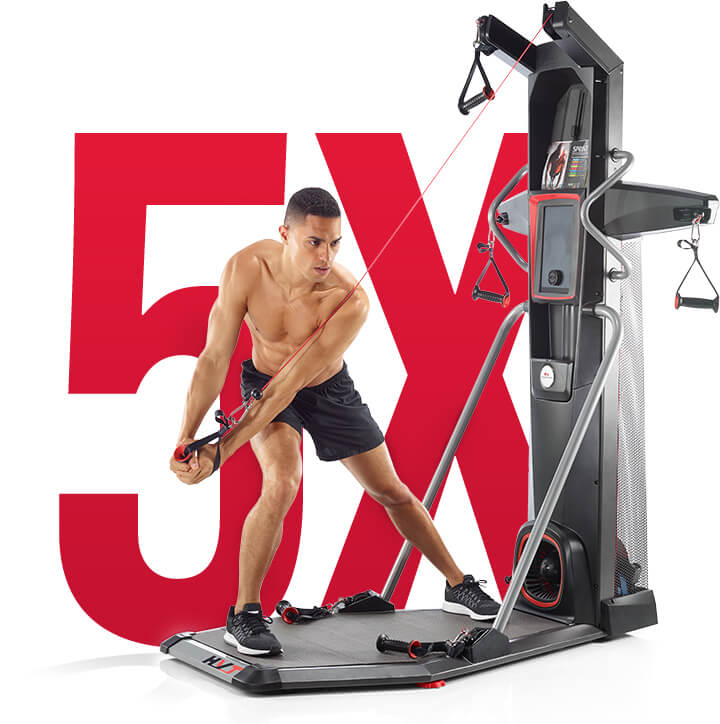 Burn more, Build more
Up to 5X More Muscle Activation
Using dynamic movements like the lunge chest fly, the HVT® workout can activate up to 5X more musclesΔ than traditional strength training and on average can burn as many calories as running 1.5 miles.‡ ∞
Δ 2016 Study. The Lunge Chest Fly can activate 21 additional muscles when performed as prescribed compared to a standard chest fly.
‡ 2016 University Study. During a Bowflex HVT sprint workout, on average participants burned the caloric equivalent of running 1.5 miles at 7 mph on a treadmill.
Real People. Real Results.

Meet Wade

"I lost almost half my body fat in 10 weeks. You can definitely feel it. It's really easy to transition from one exercise to the next. I got ripped with HVT."∞

Real People. Real Results.

Meet Camden

"I lost 22 pounds in 10 weeks! The HVT is speed and power. It's like a rowing machine for your entire body. Strength and cardio in [about] 18 minutes? Definitely on board!"∞

Real People. Real Results.

Meet Todd

"I lost 68% of my body fat in 10 weeks. It raises your heartbeat up while you're doing resistance training. I'm 41 years old and I got a 6-pack with Bowflex HVT."∞