Tapis de course Bowflex BXT226
Images
Product Video

Tapis de course Bowflex BXT226
Details
Additional Information
Haute performance et excellent rapport qualité-prix
Marchez, trottinez ou courez à votre façon et obtenez des résultats stupéfiants grâce au tapis de course Bowflex Results Series™ BXT226. Les détails techniques du BXT226 ont été choisies sur la base de recherches en matière de compétitions, et s'accompagnent d'un large panel d'équipements et d'accessoires, tels qu'un support de rangement pratique avec port USB, un support de pont Comfort Tech™, une console orientée calories et des haut-parleurs intégrés. Si pour vous la fiabilité et un prix abordable sont essentiels, ne cherchez pas plus loin : le BXT226 est fait pour vous.
Caractéristiques du produit
9 programmes d'entraînement préréglés

Jusqu'à 19,3 km/h

Inclinaison 15 %

Courroie longue durée, 3 couches, 2,5 mm

Modèle escamotable Easy SoftDrop™

Synchronisation avec l'appli gratuite Results Series™

Compatible avec les appareils Apple et Android 1

Compatibilité Bluetooth® 4.0

Ventilateur automatique 3 vitesses

Système audio intégré
Détails techniques complets
1 Cette application est compatible avec les appareils Apple sur iOS 9.0 ou version ultérieure, et avec la plupart des appareils Android 5.0 ou version ultérieure.

Meet Your Fitness Coach1
Integrates with the JRNY™ app and guides you through custom running workouts which automatically adjust as you progress.

Personalized Feedback1
In-workout coaching provides real-time feedback and tracking that instructs and motivates you towards success.

Explore the World™ App2
Automatically adjusts to your speed as you run through virtual courses, exotic locales, and stunning trails from around the globe.
2 Three free courses available. Unlock more with Explore the World™ app subscription.

Comfort Tech™
Finding a spacious deck that supports your body's needs is important. Our Comfort Tech™ is the gold standard for impact absorption, providing a softer and broader sweet spot for every step and unparalleled support. The spacious 51 cm x 152 cm running path was designed to simulate the freedom of the open road.

Soft Drop™ Technology
When it comes to saving space, we take pride in engineering compact products that fit in nearly any room of your home. The BXT226's Soft Drop™ design delivers the promise of safety with a gas shock folding system that provides a gentle descent every time.
Access the Digital Experience for Treadmills
The JRNY™ app guides your fitness journey.1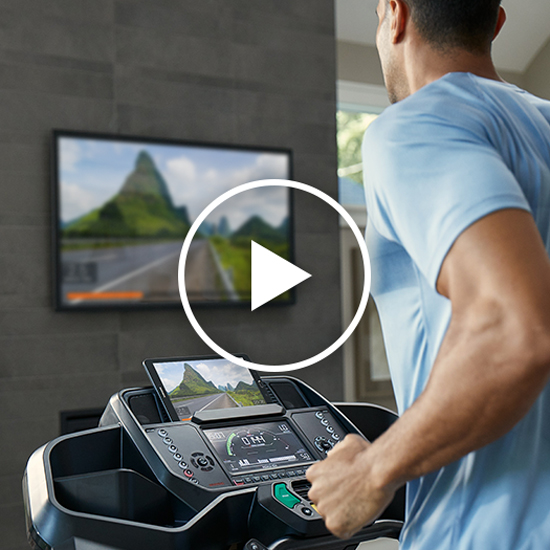 Individualized workouts that adjust to you1
Bowflex JRNY™ delivers daily, individualized running workouts that automatically adjust as your running improves, scaling every custom run to help you reach your goals.
Friendly virtual coaching that guides you1
Every run is accompanied by in-workout coaching and fitness tips that keep you on track and help you reach long term success.
Explore the World2
Explore the World™ allows you to tour the planet from the comfort of home, featuring locations like Death Valley, the Swiss Alps, and many more.
Celebrate milestones as you grow
Your accomplishments deserve to be celebrated! You'll receive in-depth analytics and virtual rewards to applaud your milestones, achievements, and personal bests.
Listen to Bowflex Radio1
Stream today's biggest hits with Bowflex Radio! Fuel your workout with an ever-changing lineup of new playlists, including Pop, Country, Hip-Hop, Rock, 80's, and more.
Watch Video
1 Bowflex JRNY™ subscription required. Converts to a paid subscription when free trial ends.
Details

After the free trial ends, your subscription will automatically renew monthly at then-current rates unless canceled at least 48 hours before the trial period ends. Manage or cancel your subscription via your App Store or Google Play Store account.
2 Three free courses available. Unlock more with Explore the World™ app subscription.