Currently only available in Europe, Latin-America, and Asia-Pacific
Product Overview
Compatible with JRNY™ app for phones/tablets. Membership required for full JRNY™ experience.
0 - 20 km/h
Up to 15% incline
51 cm x 152 cm running path
Bluetooth® connectivity
Connects with Explore the World™ app
Soft Drop™ folding system
Access connected apps from your phone, tablet, or smart TV via Bluetooth®
JRNY
Explore the World

Google Fit

Apple Health
The BowFlex® Results Series™ BXT128 was built to deliver results, offering great features and tremendous value for the serious runner.
Whether it's the unique, calorie-focused Burn Rate console, Comfort Tech™ folding deck, one-touch controls, or the integrated Bluetooth® technology, every feature was designed with durability and comfort in mind. Plus, enjoy free entertainment and connectivity options, and innovative real-time custom workout creation.
BXT128 Console

Comfort Tech Deck Suspension Technology

Heart Rate Monitoring
Product Features
Compatible with JRNY™ app –

Adaptive Workouts, Trainer-Led Classes & Videos, Explore the World and more (JRNY Membership required)
Bluetooth® connectivity
Connect with Explore the World™ App
0 - 20 km/h
15% incline
51 cm x 152 cm running path
9 "Push and Go" workout programs
Comfort Tech™ deck cushioning system
19 cm blue back-lit LCD display
USB charging port for devices
Real-time custom programming
Soft Drop™ folding system
Automatic 3-speed fan
Access connected apps from your phone, tablet, or smart TV via Bluetooth®
JRNY
Explore the World

Google Fit

Apple Health
Full Specs
Access the Digital Experience for Treadmills
The JRNY™ app guides your fitness journey.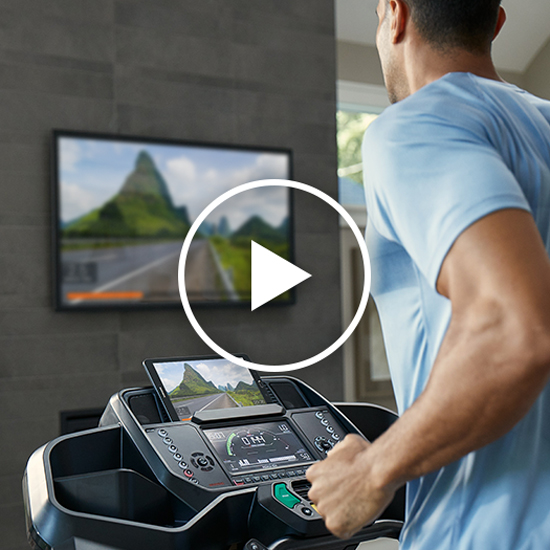 Adaptive workouts that adjust to you1
JRNY™ delivers daily, individualized running workouts that automatically adjust as your running improves, scaling every custom run to help you reach your goals.
Friendly virtual coaching that guides you1
Every run is accompanied by in-workout coaching and fitness tips that keep you on track and help you reach long term success.
Explore the world with virtual destinations1
Travel through stunning virtual courses at your own speed or experience them alongside your adaptive workouts.
Energize with trainer-led classes1
Sweat it out with world-class trainers who inspire you. Experience a wide variety of time ranges and class types like HIIT, Recovery, and Endurance.
Expand your wellness with whole-body workouts1
Round out your routine with full-body workouts like yoga, Pilates, and strength.
Celebrate milestones as you grow
Your accomplishments deserve to be celebrated! You'll receive in-depth analytics and virtual rewards to applaud your milestones, achievements, and personal bests.
Watch Video

Explore the World™ App2
Automatically adjusts to your speed as you run through virtual courses, exotic locales, and stunning trails from around the globe.
2 Free courses available. Unlock more with Explore the World™ app subscription.

Comfort Tech™
Finding a spacious deck that supports your body's needs is important. Our Comfort Tech™ is the gold standard for impact absorption, providing a softer and broader sweet spot for every step and unparalleled support. The spacious 51 cm x 152 cm running path was designed to simulate the freedom of the open road.

Soft Drop™ Technology
When it comes to saving space, we take pride in engineering compact products that fit in nearly any room of your home. The BXT128's Soft Drop™ design delivers the promise of safety with a gas shock folding system that provides a gentle descent every time.
1 This offer's availability is subject to change without notice. At end of free trial, JRNY membership automatically renews at current membership rates until canceled. JRNY is available in English language only. Manage or cancel your membership directly from your Apple ID or Google Account.