Discover a variety of features that fuel your healthy lifestyle.
Swipe for more
Train anytime from JRNY-compatible products and devices.
Tap icons to watch video.
Personalized workouts delivered daily.
Smart Recommendations
Experience individualized workouts with real-time virtual coaching that continuously adapt as your fitness improves.
Choose Your Effort
Automatically recalibrates time and difficulty based on personalized targets and how you're feeling that day.
Thousands of workout possibilities to explore.
Expand your wellness with whole-body workouts.
Round out your routine with full-body workouts like yoga, Pilates, and strength.
Explore the world with virtual destinations.
Travel through 200+ stunning virtual courses at your own speed or experience them alongside your adaptive workouts.
Excel with real-time virtual coaching.
Reach your goals with the guidance of a friendly virtual coach that keeps you in your target zones.
Energize with trainer-led classes.
Sweat it out with world-class trainers who inspire you. Experience a wide variety of time ranges and class types like HIIT, Recovery, and Endurance.
Escape with streaming entertainment.
Experience adaptive workouts alongside your favorite streaming shows.1 With easy access to metrics, coaching, and more near the bottom of your touchscreen.
Netflix
Prime Video
Disney+
JRNY Radio
Evolve with all-in-one tracking.
Review your milestones, achievements, and personal bests in one easy place.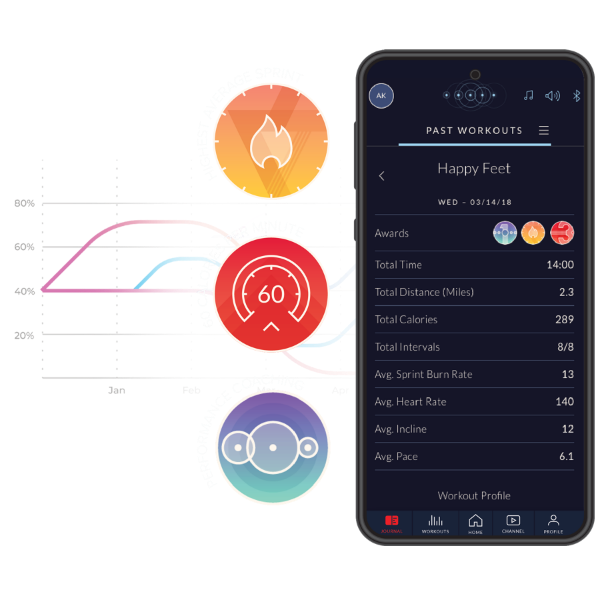 4.6
out of

5

in the App Store
Great app that creates workouts suited to my capabilities and workout history. Very easy to use.
COHiker79
App Store
Opened the app and the machine connected immediately. It connects faster than my Bluetooth® headphones! The workout experience is great. I loved the fitness assessment. Now I am confident I can crush workouts!
StackofDimes
App Store
Very helpful and I like having a plan while the app tracks my progress. I feel like I am accomplishing my goals at a pace I can maintain.
John S.
Google Play
It sets out a training program just for you. Really like that it mixes up the workouts so you're not getting bored.
Malcolm P.
Google Play
Super! Adjusts to your level then slowly increases over time as you become stronger.
Leonardo N.
Google Play
Love this app. It keeps me focused and on point with my workouts.
djrkad1966
App Store
Amazing. Keeps track of my progress and the trainers are amazing.
J B
Google Play
Each set is different. JRNY appears to be in sync with me; not me with it. The routines get more challenging at a level I can do. I am feeling stronger and more confident with each workout. Go Bowflex.
Google User
Google Play
Frequently Asked Questions
Which Bowflex® home fitness products are compatible with the JRNY™ digital fitness platform?

Built-in touchscreen experience is available for: Bowflex® VeloCore® 16/22 bikes, C7 bike, Max Total® 40 machine, Max Trainer® M9 machine, Max Total® machine, and Treadmills 56, 25 and 18.

JRNY™ app for phone or tablet is available for: Bowflex® C6 bike, Max Trainer® M8 and M6 machines, BXT326, 226 and 128 treadmills, SelectTech 552 and 1090 dumbbells, SelectTech 840 Kettlebell, SelectTech 2080 Barbell w/ Curl Bar, and Schwinn® 800IC bike.

Pair your JRNY™ app to expand your fitness experience.
How do adaptive workouts work?

First, the JRNY™ platform assesses your fitness level and designs workouts tailored to you and your personal fitness journey. Then, the JRNY™ platform recommends workouts based on your abilities and the workout experiences you favor. Finally, your JRNY™ workouts automatically adjust over time as you progress. The more you improve, the more your workouts adapt to keep you challenged. This removes the guesswork and creates a personalized fitness plan you can stick to for long-term success.
Does my JRNY™ Membership work for all family user profiles on my machine?

Yes. One single JRNY™ Membership covers any household member who has a user profile associated with your product.
How many individual user profiles can I set up for my household?

Unlimited user profiles are available for all products except for:

M8: 4 user profiles
M6: 2 user profiles
BXT326: 4 user profiles
BXT226: 4 user profiles
BXT128: 4 user profiles
C6: 1 user profile
When does my JRNY™ Membership become active?

If purchased through Bowflex.com, your JRNY™ Membership becomes active once you first log into the JRNY platform from your touchscreen or smart device.

If purchased through the App Store/Google Play, your membership becomes active as soon as you've completed your in-app purchase. If your membership is not activated within 60 days of purchase, Bowflex has the right to cancel the trial or to automatically activate your membership.
For additional questions check out the JRNY FAQ page.
1JRNY™ Membership allows you to watch your existing Netflix, Prime Video, and Disney+ accounts. Streaming subscriptions not included.
2 Unlimited user profiles for Bowflex cardio products except for the Max Trainer M6 and M8 models, the C6 bike, and the BXT128, BXT226 and BXT326 treadmill models. M8: 4 user profiles. M6: 2 user profiles. C6: 1 user profile. BXT326: 4 user profiles. BXT226: 4 user profiles. BXT128: 4 user profiles.