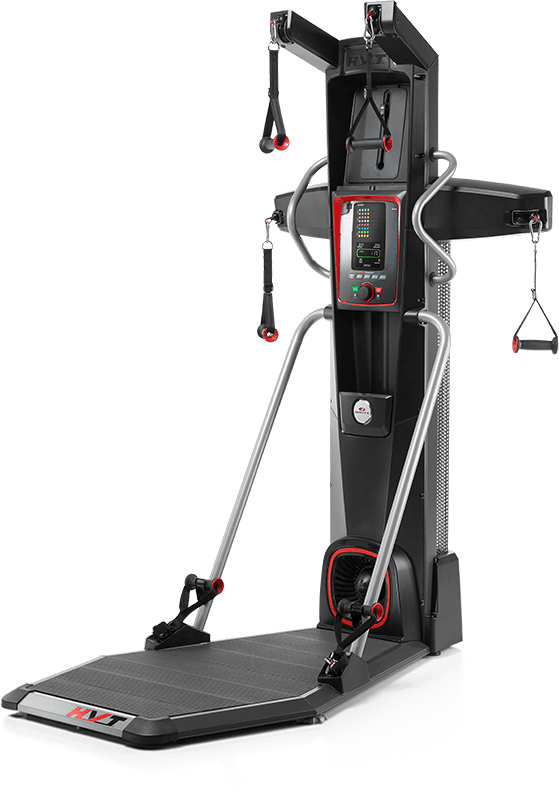 Bowflex HVT
Get the benefits of 2 workouts in 1. Burn more calories and build lean muscle in less time with Hybrid Velocity Training.
Learn More

View HVT Workout
"If you wanted one machine that does everything, it's this machine. It's all you'll ever need."
- Eric, HVT User
"The ease and convenience to do a quick workout with the Bowflex HVT is one of my favorites about this equipment."
- Regina, HVT User
"This is the most complete HIIT machine to date. I am drenched w/sweat and my muscles are exhausted after every workout."
- Derek, HVT User
"It's a well made machine, and being able to knock out a 20 minute workout that leaves my entire body feeling spent is great."
- Erin, HVT User
"This product works for all fitness levels. All you have to do is use the dial to make tension harder or easier."
- Matt, HVT User
A Total Body Workout In About 18 Minutes!
Save Time
No matter your age or fitness level, getting in great shape no longer requires exhaustive hours at the gym. In as little as 18 minutes and 20 seconds, Hybrid Velocity Training can deliver amazing results for everyone.
Learn More
Real People. Real Results.

Success Stories

"I've never gotten a workout like this before. I lost 18 lbs with the HVT. It's incredible. It's a cardio and strength workout all in one."∞

Real People. Real Results.

Success Stories

"I lost 22 pounds in 10 weeks! The HVT is speed and power. It's like a rowing machine for your entire body. Strength and cardio in [about] 18 minutes? Definitely on board!"∞

Real People. Real Results.

Success Stories

"It's almost like having a personal trainer. I was shocked that you can get such a good cardio workout while still building lean muscle. I lost 19 lbs in 10 weeks."∞

Real People. Real Results.

Success Stories

"I lost almost half my body fat in 10 weeks. You can definitely feel it. It's really easy to transition from one exercise to the next. I got ripped with HVT."∞