Halteres SelectTech 1090i da BowFlex
Product Overview
On-demand, full-body strength classes available on the JRNY™ app. Membership required for full JRNY™ video library.
NEW! JRNY™ with Motion Tracking for improved exercise form. Membership required for full JRNY™ Motion Tracking experience.
Weights adjust from 4 – 41 kg
Easy-to-use selection dials for adjusting weights
17 different weight settings
Total body results
17 sets of weights in 1 compact design.
4 - 41 kg per Adjustable Dumbbell
Functional, full-body strength for your legs, back, chest, abs, shoulders and arms.
Easy-to-Use Selection Dials
Easily adjust from one exercise to the next. 4, 7, 9, 11, 13, 16, 18, 21, 23, 25, 27. 30, 32, 34, 36, 39 and 41 kg.*
Storage Trays Included
Stay organized with intuitive storage trays that keep your weights off the floor.
* Please be advised that due to tolerances in the manufacturing process, individual weight plates may vary slightly from their stated weight values
Specs & Dimensions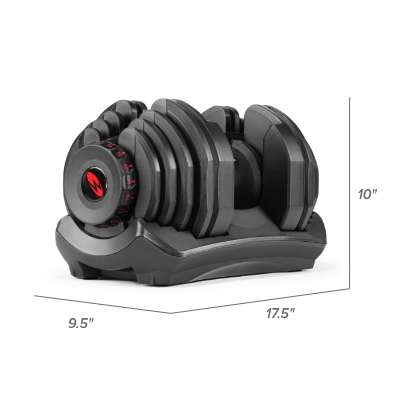 Dimensions
17.5" L x 9.5" W x 10" H
44.4 x 24.2 x 25.3 cm
Assembled Weight with Base
92.3 lbs.
41.9 kg
Material
Steel, Nylon, ABS, Thermoplastic Rubber
JRNY App + 1090 Dumbbells
NEW!

JRNY™ with Motion Tracking

We took one of the most popular home fitness products – SelectTech Dumbbells – and made the experience even better. The JRNY™ app with Motion Tracking uses your phone's or tablet's camera to track your reps and form in real-time.

Preview New Feature

Swipe for more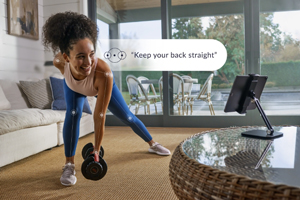 Form Guidance
JRNY™ provides real-time feedback to assist you with your form.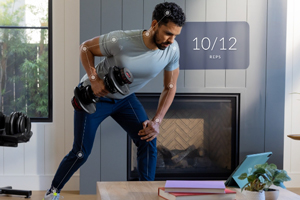 Rep Tracking
JRNY™ will count how many reps you complete for each exercise.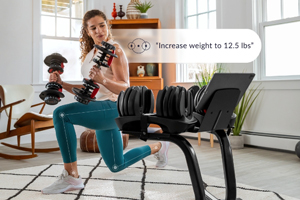 Adaptive Weight Targets
JRNY™ learns as you progress, recommending when to increase or decrease your weight.
On-Demand Trainer-Led Workouts
JRNY™ has an ever-growing library of whole-body workout content, including strength, Pilates, yoga, and more.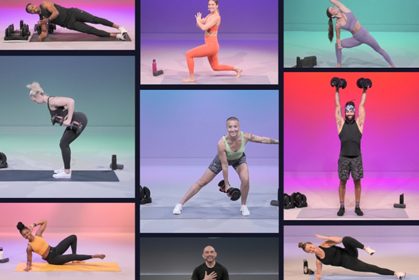 Curated Music Stations
Layer your favorite music genre on top of any on-demand class for endless variety and customization.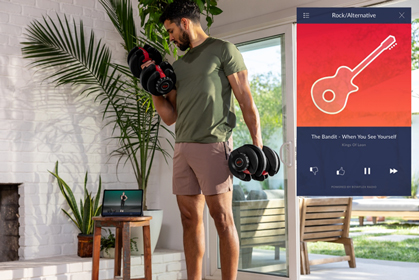 1 This offer's availability is subject to change without notice. At end of free trial, JRNY membership automatically renews at current membership rates until canceled. JRNY is available in English language only. Manage or cancel your membership directly from your Apple ID or Google Account.